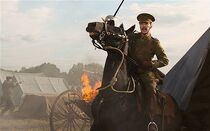 Major Jamie Stewart is part of the British Cavalry and took part in the suprise attack of the German camp. He seems to be very close friends with Captain Nicholls. He is taken prisoner during the charge and his fate is uncertain. He is the leader of the cavalry company.
Ad blocker interference detected!
Wikia is a free-to-use site that makes money from advertising. We have a modified experience for viewers using ad blockers

Wikia is not accessible if you've made further modifications. Remove the custom ad blocker rule(s) and the page will load as expected.