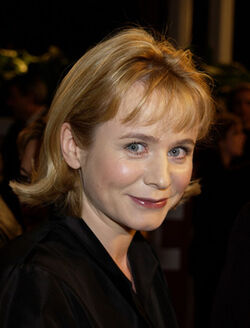 Emily Watson
- born January 14, 1967 in Islington, London, England - is an English actress who plays the part of
Rose Narracott
in
Steven Spielberg
's
film adaptation
of the
Michael Morpurgo
children's novel
War Horse
.
Watson has enjoyed a bountiful career in film, as well as in television, and on stage where she got her start. Some of her projects include:
The Children's Hour (at the Royal National Theatre)
Three Sisters
Much Ado about Nothing
The Lady from the Sea
A Jovial Crew
The Taming of the Shrew
All's Well That Ends Well
The Changeling
Uncle Vanya
Twelfth Night
Television
Edit
A Summer Day's Dream (1994)
The Mill on the Floss (1997)
The Memory Keeper's Daughter (2008)
Appropriate Adult (2011)
Breaking the Waves (1996)
Metroland (1997)
The Boxer (1997)
Hilary and Jackie (1998)
Cradle Will Rock (1999)
Angela's Ashes (1999)
Trixie (2000)
The Luzhin Defence (2000)
Gosford Park (2001)
Punch-Drunk Love (2002)
Red Dragon (2002)
Equilibrium (2002)
Separate Lies (2005)
Wah-Wah (2005)
Corpse Bride (2005)
The Proposition (2005)
Miss Potter (2006)
Crusade in Jeans (2006)
The Water Horse: Legend of the Deep (2007)
Fireflies in the Garden (2008)
Synecdoche, New York (2008)
Cold Souls (2009)
Within the Whirlwind (2009)
Cemetery Junction (2010)
Oranges and Sunshine (2010)
War Horse (2011)
Ad blocker interference detected!
Wikia is a free-to-use site that makes money from advertising. We have a modified experience for viewers using ad blockers

Wikia is not accessible if you've made further modifications. Remove the custom ad blocker rule(s) and the page will load as expected.