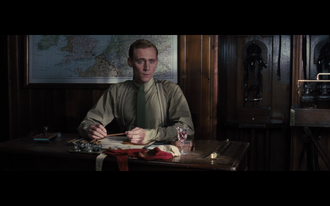 Captain James Nicholls
(played by Tom Hiddleston) is the British cavalry officer who was paired with
Joey
.Joey was a horse that Nicholls promised to try and return to his original owner. Nicholls is killed in action while invading a German camp. He was riding Joey when he died, leaving the horse unmounted and roaming through a war zone. This event launches Joey on an incredible journey that is the main storyline in this adventure. A very kind and considerate man, he was sweet even in the time of war.
You are going to fall in love with Captain Nicholls and it is going to leave you a great deal of emotional trauma afterwards when he dies. He's played by Tom Hiddleston, what did you actually expect? Even though the movie is about a horse, Nicholls is one of the best characters.
Memorable Quotes
Edit
"I want to show him how beautiful Joey's looking, the boy who sold him to me."
"I promise you, that I'll look after him as closely as you've done, I'll respect him and all the care that you've taken with him. And if I can - I'll return him to your care"
-Both quotes on the horse Joey in regard to Albert.
Image Gallery
Edit